Posted on January 25, 2018.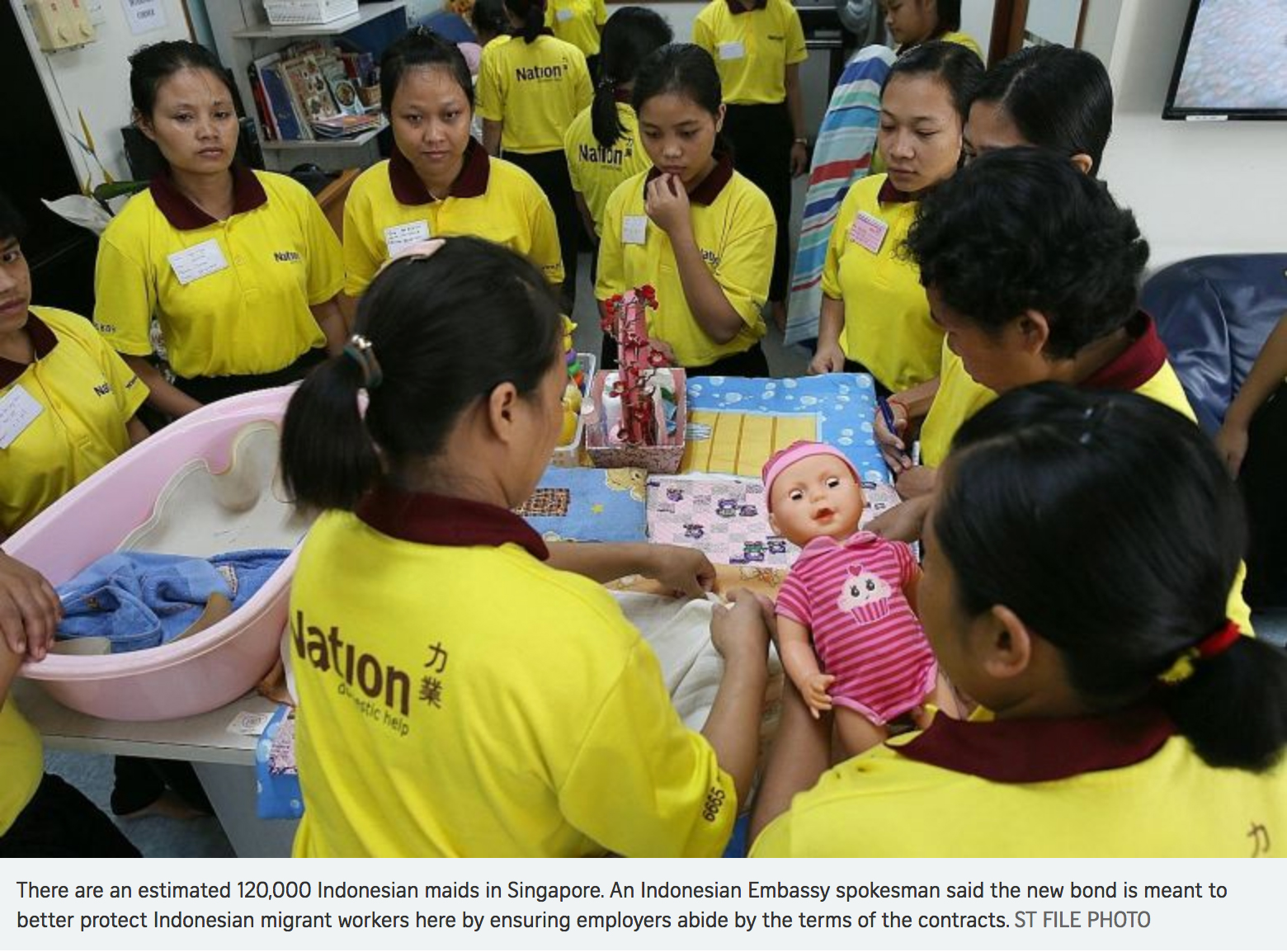 $70 fee to kick in from Feb; employers who breach contract terms must pay full $6k sum
---
---

From Feb 1, employers of Indonesian maids will have to spend $70 more when hiring a new helper or renewing a contract.
They have to make this one-off payment to an insurer for a new performance bond of $6,000 that the Indonesian Embassy is implementing from Feb 1.
Employers will have to pay the full $6,000 only if they breach the terms of the employment contract issued by the embassy, for instance, by failing to pay the maid's salary on time or abusing her.
When such breaches occur, the insurance company will pay the embassy first and subsequently claim the sum from the employer.
A spokesman for the Indonesian Embassy told The Straits Times that the bond is to better protect Indonesian migrant workers here by ensuring employers abide by the terms of the contracts. The current contract terms include buying personal accident insurance for the helper, allowing her to practise her religion and not allowing her to clean the exterior of windows in high-rise homes.
The spokesman said the contract is being reviewed and will be finalised by Feb 1.
The embassy believes this new bond will not hinder the hiring of Indonesian maids, she added.
There are an estimated 120,000 Indonesian maids here.
The embassy here is the first among all Indonesian embassies to impose such a bond, the spokesman said, adding that no particular case had sparked the initiative, as the embassy "is constantly looking at ways to better protect its citizens".
The Philippine Embassy here has a similar bond that has been in place for more than two decades. Employers pay about $40 to an insurer if they go through a maid agency, in lieu of a $2,000 bond.
Aside from the country-specific bonds, employers also have to buy insurance for the $5,000 security bond required by Singapore's Manpower Ministry (MOM).
When contacted, an MOM spokesman said the ministry is aware of the Indonesian Embassy's bond and is "seeking clarifications on the matter".
Maid agents said the rule will lead to higher costs for employers.
But the amount is not prohibitive, noted Singapore Accredited Employment Agencies Association president Lim Chee Chong.
Orange Employment Agency owner Shirley Ng said employers would have to abide by the embassy's rules or choose helpers of other nationalities.
Ms Sheena Kanwar, executive director of migrant worker advocacy group Humanitarian Organisation for Migration Economics, said the move seems well intentioned, but it does not help to change the negative feelings some employers have towards maids.
"To change the culture and attitudes of employers, we need a more sustainable measure than bonds, or adding bureaucracy," she said.
Some employers said it would be onerous to handle separate bond policies by both Singapore and foreign governments.
"Extra cost is never welcome to employers," said housewife Beatrice Mitschke, 47, who is considering hiring a new Indonesian maid later this year to help with chores and to care for her elderly father. She said the MOM bond already covers a pretty comprehensive range of issues, and suggested the two governments have a combined bond instead.
Another employer, jeweller Eileen Tjandra, 48, suggested the embassy impose the bond only on employers hiring maids new to Singapore.
"Those who have worked here before are more savvy, they know their rights and won't accept not being paid on time anyway," she said.
---