Posted on March 14, 2018.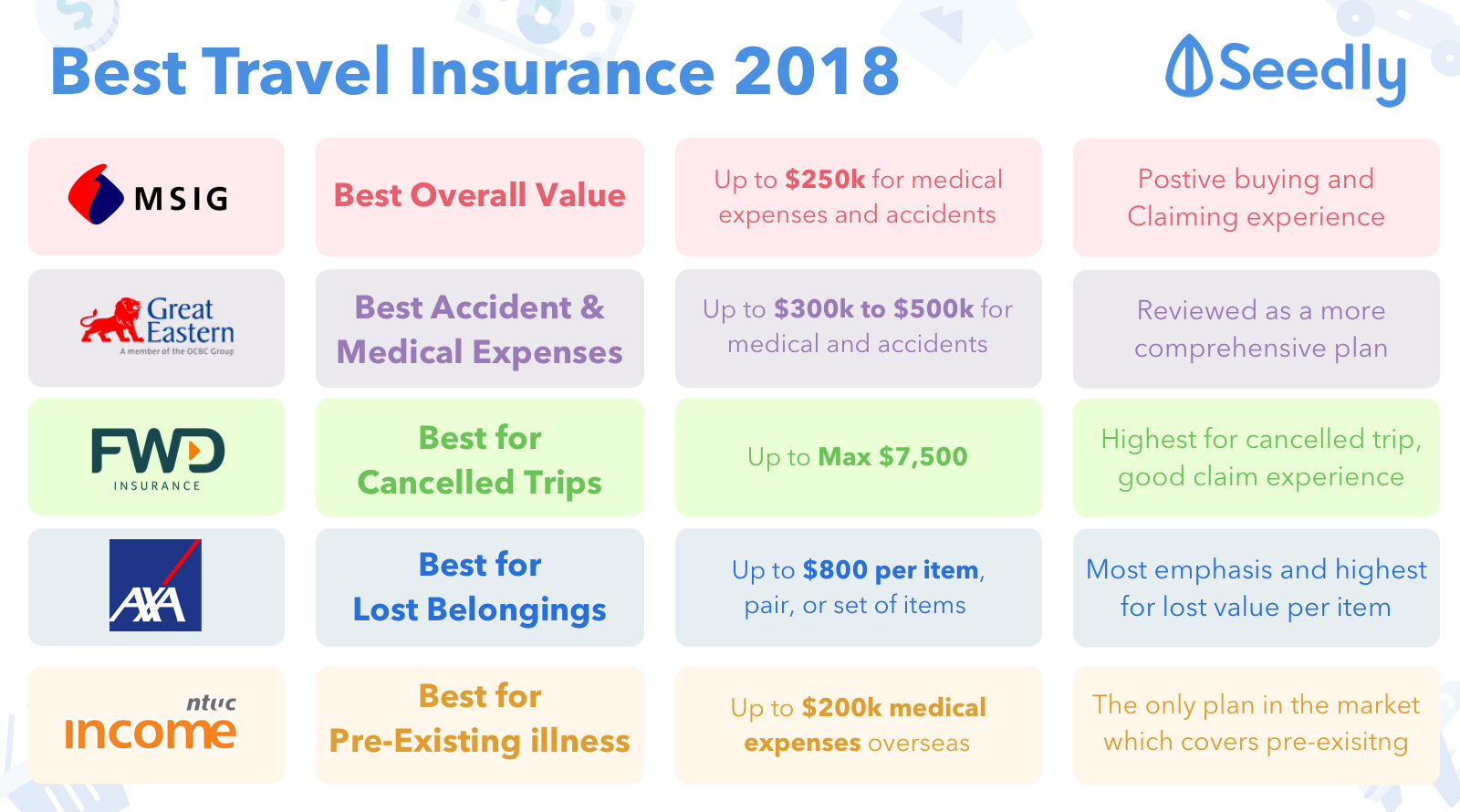 Credit to: Kenneth Lou
---
"I'm travelling soon, which Travel Insurance best suits me?"
This article was written for the typical traveller from Singapore who is considering getting some basic form of coverage for overseas travel. In this article, we compare and review the main basic travel plans in the market.
Read till the end as we share about this unbiased community reviews site we launched recently and stand a chance to win a $100 Scoot Voucher if you leave a travel insurance review by 27th March 2018.
A Typical Traveller Scenario
Travelling out from Singapore to another country as a single or with a family
You have bought your tickets recently but chose not to buy the travel insurance bundle
You are comparing to see which suits you best based on price and value
For completeness sake, we have compared the 12 main travel insurance providers in Singapore which are commonly chosen by travellers for their value. We are NOT comparing the promotional deals for accounts that are usually for a shorter term.
Editor's note: We do not get any commissions from any of these recommendations.You will start to realize also that very often, the best products do not give any perks. Also, the most important aspect of travel insurance is to read real unbiased user reviews to ensure that there has been successful claims in the past.
TL;DR: Presenting The Winners
| Category | Winner | Coverage | Reason |
| --- | --- | --- | --- |
| Best Overall Value | MSIG Travel Easy | Up to $250k for medical expenses and accidents | Overall with the buying and claiming experience, for it's price, it is one of the most competitive products |
| Best For Personal Accident and Medical Expenses | Great Eastern Travel Smart Basic | Up to $300k to $500k | Usually a more expensive plan than the others |
| Best for Cancelled Trips | FWD Travel Premium | Up to max $7,500 | FWD places emphasis on this cancelled trip segment |
| Best for Lost Belongings | AXA TravelSmart | Up to 800 per item, pair, or set of items | AXA places the most emphasis on lost items |
| Best for Pre-existing condition | NTUC Enhanced PreX | Up to $200k medical expenses overseas | The only plan in the market which covers pre-existing medical conditions which include any known injury or sickness before you travel |
| Best for NS Men | AVIVA Travel Lite | Up to $250k medical expenses overseas | Because you are a NSman and if you have the AVIVA MHA/MINDEF insurance, you get 30% off the premiums |
Important things to note:
Rates are quoted for adults under 70 years old for Single Trips
The quotes represent the basic plans offered by each company
You can opt for higher coverages which naturally cost more


---

Further reading – Detailed Information

Overall: It does seem like for it's personal accident coverage and lost belongings coverage at the average $500 per item, it offers a good value (bang for buck and experience combined)

| Product Name | MSIG Travel Easy Standard |
| --- | --- |
| Personal Accident Payment | $150,000 |
| Medical Expenses (Overseas) | $250,000 |
| Cancelled Trip | Max $5,000 |
| Lost Belongings | Up to $500 per item, pair, or set of items |

Based on top review: "During my last year trip to Italy, my bag was snatched. After landed back to SG, we filed our claims and the help desks is helpful and patient with our questions and provide clear and follow-up promptly. We manage to claim more then SGD5K of lost within 6weeks."

Overall: It has one of the highest Personal Accident and Medical expenses coverage at around $300k and $500k respectively for a basic plan.

| Product Name | GE Travel Smart Basic |
| --- | --- |
| Personal Accident | $300,000 |
| Medical Expenses (Overseas) | $500,000 |
| Cancelled Trip | Max $5,000 |
| Lost Belongings | Up to $500 per item, pair or set of items |

Actually for Accident and medical expenses, usually all companies offer pretty competitive rates as the premiums rise for more expensive plans.

Overall: A relatively new entrant into the market, this allows the best experience at a very affordable premium. They particularly have very good coverage for cancelled trips.

| Product Name | FWD Travel Basic |
| --- | --- |
| Personal Accident | $200,000 |
| Medical Expenses (Overseas) | $200,000 |
| Cancelled Trip | Max $7,500 |
| Lost Belongings | Up to $300 per item, pair or set of items |

Based on top review: "I was on a solo backpacking trip in Vietnam when I had a high fever which requires me to admit to the hospital. Being worried about the cost, I called FWD for help (emergency call is claimable). The staff rest assured me that it is claimable and even help me research the nearest hospital nearby my hotel."

Overall: A old player in the market, their competitive Travel product allows you to claim the highest amount per item.

| Product Name | AXA SmartTraveller Basic |
| --- | --- |
| Personal Accident | $250,000 |
| Medical Expenses (Overseas) | $300,000 |
| Cancelled Trip | Max $6,000 |
| Lost Belongings | Up to $800 per item, pair or set of items |

Based on top review: "I made a medical claim against the insurance through its online claim form. The process of filling up the form was relatively quick and easy, and supporting documents were required to be attached with the form to validate your claim. The claim went through in around 1 week plus without any issues. All in all, the application and claiming process could be done quickly and easily. Quite a pleasant experience. "

Overall: The only player in the market which takes on the risk to insure the pre-existing clients for overseas travel, usually at a premium. This will save you the pain and trouble of what happened to a sad case where a family had to raise money to bring their comatose father home from Japan last year.

| Product Name | NTUC Enhanced PreX |
| --- | --- |
| Personal Accident | $150,000 |
| Medical Expenses (Overseas) | $250,000 |
| Cancelled Trip | Max $5,000 |
| Lost Belongings | Up to $500 per item, pair or set of items |

Based on top review: "I was hospitalised with food poisoning when I was in Korea several years ago. I was reading through their policy (again) on the necessary documents they required for claiming while I was resting in the hospital. It was easy to understand with little medical jargon. Especially they will bold certain words to have your attention."

Overall: The only player in the market which rewards you if you happen to be a NS Men who is still on the MINDEF/MHA life or personal accident policy.

| Product Name | Aviva Travel Lite |
| --- | --- |
| Personal Accident | $50,000 |
| Medical Expenses (Overseas) | $250,000 |
| Cancelled Trip | Max $5,000 |
| Lost Belongings | Up to $700 per item, pair or set of items |

Based on top review: "I always use this product because it gives a discount for Aviva insurance policy owners, which almost every guy in Singapore has."

Compare all Basic Travel Insurance plans

Products
Personal Accident Payment
Medical Expenses
(Overseas)
Cancelled Trip
(Max)
Lost Belongings
per item, pair, or set of items)
FWD Premium
$200,000
$200,000
$7,500
Up to $300
Etiqa eProtect
$200,000
$200,000
$5,000
Up to $250
NTUC Travel Classic
$150,000
$250,000
$5,000
Up to $500
Liberty Tour Care Plus Standard
$150,000
$250,000
$5,000
Up to $500
Hong Leong Travel Basic
$200,000
$150,000
$5,000
Up to $500
AVIVA Travel Lite
$50,000
$250,000
$5,000
Up to $700
MSIG TravelEasy
$150,000
$250,000
$5,000
Up to $500
Sompo Travel Joy Vital
$150,000
$150,000
$5,000
Up to $250
AXA Smart Traveller Baisc
$250,000
$300,000
$6,000
Up to $800
AIG Travel Guard Standard
$100,000
$200,000
$5,000
Up to $500
Direct Asia DA150 Basic
$100,000
$150,000
$3,000
Up to $500
Great Eastern Travel Smart Basic
$300,000
$500,000
$5,000
Up to $500
Allianz Global Bronze
$35,000
$400,000
$5,000
Up to $500
---